designing the future
Since 2008, Swissôtel Hotels & Resorts has invested significant resources into its design approach. Unlike in furniture manufacturing – where design is a pre-requisite considered early on in the value chain – at Swissôtel, design is complimentary to its sustainable business strategy:
On the one hand, design is about look and feel – but it also has to follow function. To offer its guests "Quality in Life", Swissôtel's design needs to provide them with modern, clean, reliable and practical solutions that fit their habits and expectations. Ultimately, in-house research (led by the research firm JD Powers and Associates) has shown that up to 50% of guest satisfaction could be based on the physical appearance of a hotel (a number that actually varies according to the geographical origin of the guest)


On the other hand, an enormous amount of energy, materials and resources is required for building, operating or renovating large properties like hotels. This can be reduced effectively by the intelligent and sustainable design of the structure and its interior, including appliances and fixtures


SWISSÔTEL ADVOCATES THAT THE DESIGN OF A BUILDING'S SHELL AND ITS CONTENT BE COMPLEMENTARY.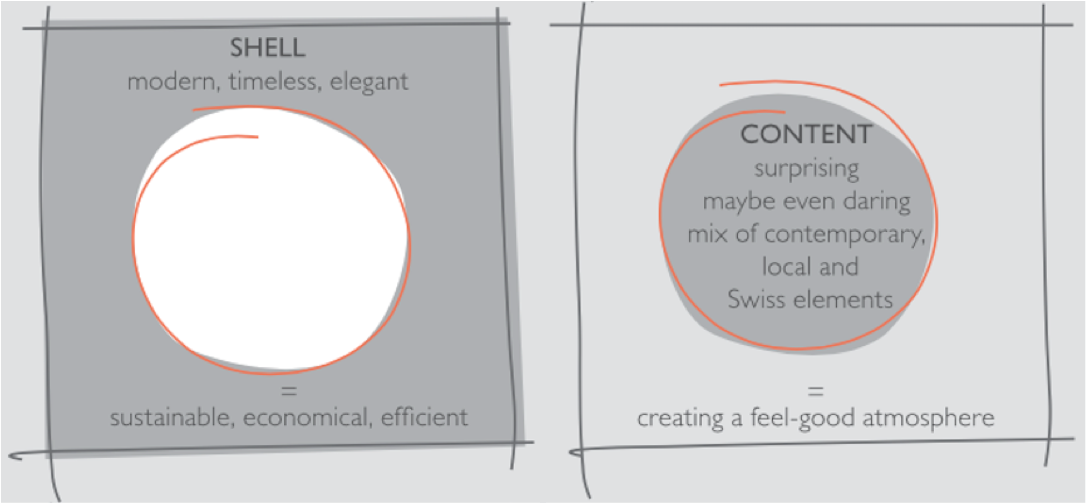 Shell: in accordance with Swissôtel's design philosophy, the layout and design of any hotel must endure for eight to ten years and is timeless, understated and elegant.
Content: the overall look remains fresh and cutting-edge. While the shell must have longevity, the content can be refreshed every three to five years.


This principle lets Swissôtel ensure that the lifecycle of the hotel is more sustainable, with clear added value for the guest and a sensible investment strategy for its owner. A long-term strategy is therefore implemented for each hotel project (new construction or renovation) using a set of tools (enablers):
Solid processes with clear approval steps, backed by a strong library of documents and templates (iOMS)


Concept Papers and Design Briefs completed by our management teams, defining the vision, positioning, USPs, key operational aspects and functionalities of each project to create a common understanding among all stakeholders of the objectives to be achieved


A Concept & Design Manual describing Swissôtel's operating philosophy and design approach to specific signature outlets


Regionalised Concept & Design Manuals to make certain products, services and design are relevant for the location and embraced by the guests